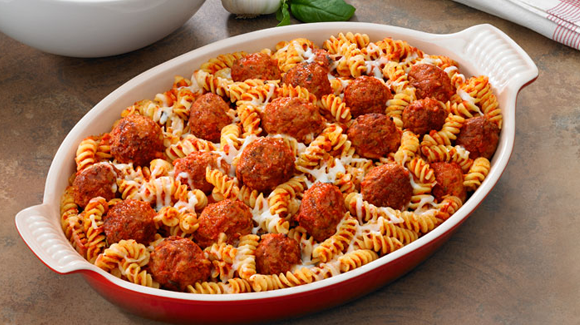 Pasta with Meat Ball
Have a little taste of italy with this great dish.
INGREDIENTS
½ kg Chicken mince
4 tbsp Bread crumbs
2 tbsp Butter
¼ cup Oil
½ cup sliced Button mushroom
3 tbsp Flou
Knorr chilli garlic sauce
¼ bunch Parsley chopped
2 chopped Spring onion
½ packet boiled pasta
Salt to taste
¼ tsp Black pepper powder
METHOD
Mix chicken mince, bread crumbs, salt and chop well.
Make small sized balls and keep aside.
Heat butter and oil in a pan, fry chicken balls till golden brown.
In the same pan add flour and fry for 2 minutes.
Add 1 cup water and mushrooms then cook for 1 – 2 minutes.
Add Knorr chilli garlic sauce, parsley, cover and cook for 2 – 3 minutes.
Then add fried chicken balls, spring onion, salt and cook covered on low flame.
Boil pasta and remove from water, add to the red sauce.
Mix over high flame and serve hot.